Kadıköy is one of the busy, secular and settled district in the Anatolian side of Istanbul. It is governed by CHP, main opposition party, but water supply is provided by İSKİ, of Istanbul Municipality of AKP, governing party. 4 days is a bit long time and probably intentional…
A Kadıköy resident, Cem Hakverdi @cmhkvrd_ published some photos: 
kadıköy'de 4 gündür su yok. bir türlü onarılamayan su borusu yüzünden kadıköy'de vaziyet böyle 
Some residents just started a protest with smily faces. Well, the situation is a bit tragi-comical.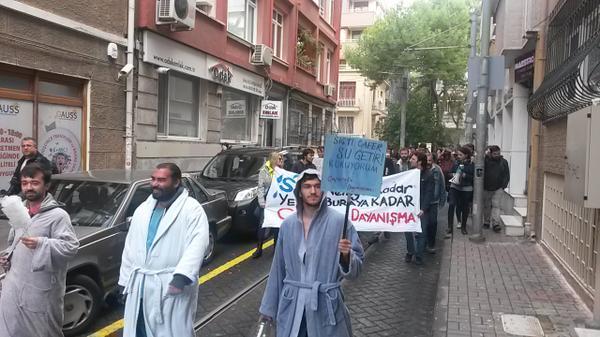 Ode to Okmeydanı: Far-left group fights to save Istanbulneighborhood
ISTANBUL — "The DHKP/C is a part of us," said Yucel Yildirm, a 40-year-old carpenter over cups of bitter Turkish black tea in a park near the heart of
An autistic man with an extraordinary talent is drawing Istanbul using his
photographic memory
after a 45-minute helicopter tour of the city
ArtInternational İstanbul fair rolls out 2nd edition on Friday
The second edition of the
İstanbul
-based art fair ArtInternational will kick off
on Friday
at the Haliç Congress Center, hosting around 80 galleries from
The outdoor flea markets of Istanbul, are a paradise for bargain hunters, collectors, hipsters and the nostalgic
Scaffolding at a construction site across from Istanbul's iconic Gezi Park has collapsed due to strong winds, injuring five people
Book on Istanbul Biennial published
The newly published book about the 13th Istanbul Biennial brings together a visual narrative of exhibited works throughout the venues, poems and .