Resistance evolves along civic lines, PM Erdoğan calls for a Police State… Round up in #OccupyTurkey
Turkey's 'standing people' protest spreads amid Erdoğan's crackdown
Protesters turn to passive resistance after four people die in Erdoğan's brutal response to Taksim Square demonstration
Lunchtime in the waterfront district of Beşiktaş in Istanbul on Tuesday and Ismail Orhan has been standing silently under a yellow parasol in the blistering heat for more than four hours.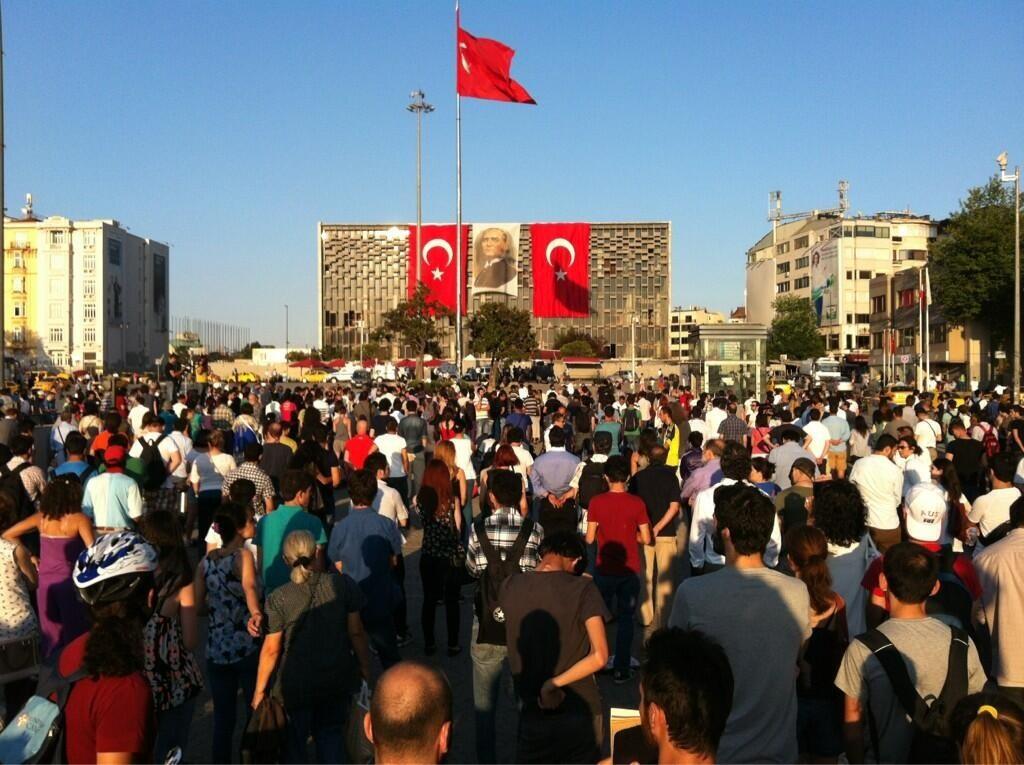 7,822 Injured with 59 in Serious Condition
Turkish Doctors Union (TTB) released a statement, saying that at least 7,822 people were injured with 59 in serious condition. 4 protestors lost their lives and 11 lost eyesight, TTB said.
In Turkey, a New Form of Protest: Standing Silently for Hours
Overnight, Turkish choreographer Erdem Gunduz has inspired a new form of anti-government protest: Standing silently while staring at his country's flag for hours on end.
Standing people in Kadıköy:
Turkey's economy is vulnerable
By Hugo Dixon LONDON (Reuters) – Tayyip Erdogan seems to like the concept of "choking" things. At the weekend, Turkey's prime minister sent riot police into an Istanbul park with tear gas and water cannons to clear out the protesters. A week earlier, he had threatened to "choke" an alleged "high-interest-rate lobby" of speculators who wanted to push interest rates up and suffocate the economy
Anti-Government Protests In Turkey Reach Syrian Border
The anti-government protests taking place across Turkey have not bypassed Antakya, down near the Syrian border. Nightly marches and demonstrations take place in the majority Alawite part of the city, but the protesters are a mix of minority Alawites and majority Sunni Muslims. In addition to the common complaints that Prime Minister Erdogan is growing more autocratic, some are convinced that the .
Standing people in Eskişehir: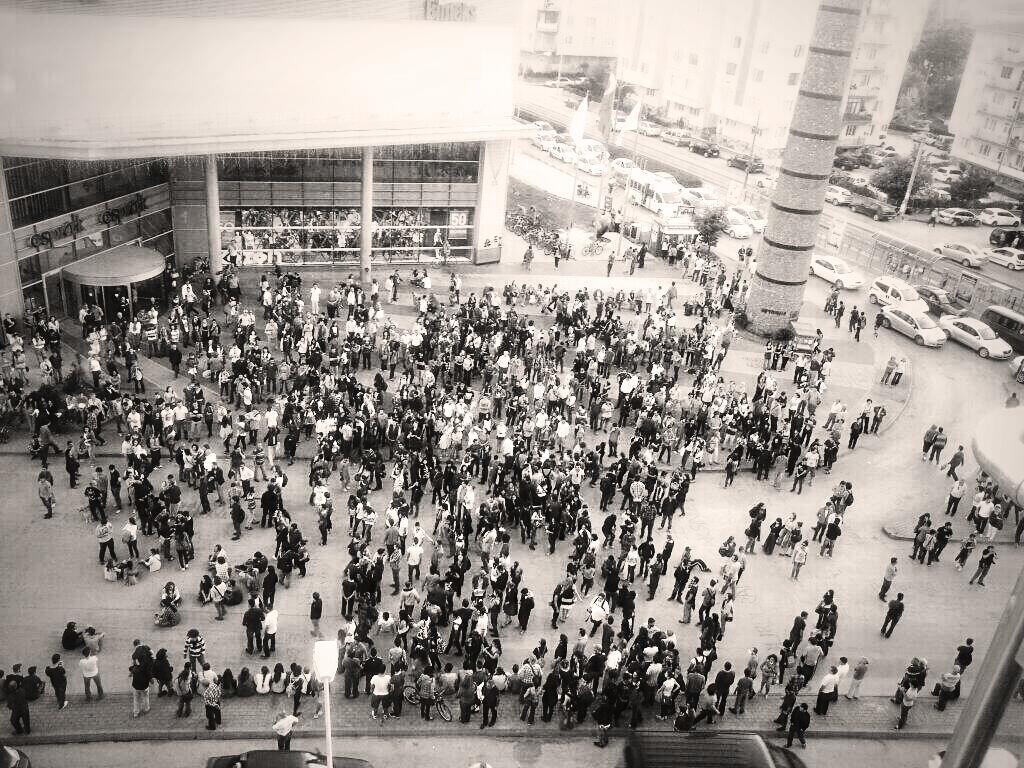 Fans together in Abbasağa Park: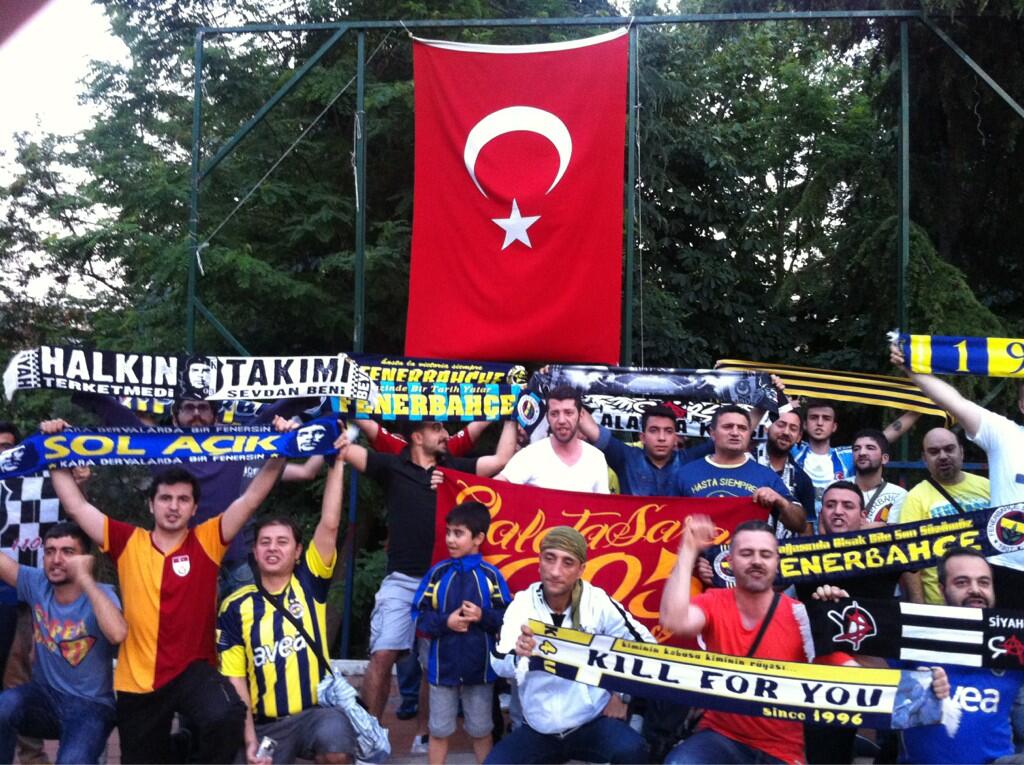 What The Turkish Public Thinks
A new national poll  carried out June 3-10 has some interesting results:
Support for AKP declined 11% since this time last year. If an election were held now, 35.3% would vote for AKP, 22.7 for CHP, 14.5 for MHP, 6.2% for BDP.
51.7% said the protests will affect their vote in local elections in March 2014.
Erdogan?s popularity declined 7% in the past month.72.5% of respondents like President Gul, 53.5% like PM Erdogan, 26.7% Kılıçdaroğlu, 29.3% Devlet Bahçeli.
Erdogan fait nettoyer Taksim avant l?appel au « peuple » de Kazlıçeşme. Ils s?en prennent même à Çarşı
A peine deux heures s?étaient écoulées, samedi 15 juin après une rencontre très attendue entre Recep Tayyip Erdogan et les représentants de la plate forme Gezi Park, et les deux parties sans être tombées d?accord, semblaient prêtes à certaines concessions,  quand les  choses importantes ont commencé. Le grand nettoyage » de la place Taksim de toute trace des occupants qui n?en finissaient pas de narguer le pouvoir était lancé. Il devait être achevé avant le meeting que Recep Tayyip Erdogan allait donner à Istanbul, le lendemain à 18 heures tapantes.
Standing people in Kadıköy:
Turkey: Erdoğan is all in on Repression
With anti-government protests in Turkey showing no signs of subsiding, Prime Minister Recep Tayyip Erdoğan is doubling down on tough talk. In addition to vowing to punish his domestic critics, the Turkish prime minister is picking a fight with the European Union.
Living in Taksim ? Report June 12-14, 2013
First, an addendum to June 11. over 70 lawyers defending the park were taken into custody at the courthouse yesterday. They were later released, but another perfect example of trying to strike fear in people?s hearts.
Living in Taksim ? Report June 10-11, 2013
Long time, no report. It has been a tough week? Monday was fairly relaxed, I was in the park 6-10 AM again, it was a continuation of the previous two weeks: peaceful, green, full of life. In the evening, it was announced that the PM would meet with a group of people on Wednesday to discuss the park. It was the first announcement about negotiations, but the problem was that these people were not representatives chosen by the protestors, but some people related to the park and a random group of artists. Nevertheless, I thought it was good that some steps were taken.
Living in Taksim ? Weekend Report June 8-9, 2013
The police has announced that they would not intervene at the park until Monday. So the weekend in Istanbul was peaceful, the park full of ?tourists,? people who come from all over town to see what?s going on. We even had visits from various family members?
Living in Taksim – Daily Report June 7, 2013
Long, long day. And not just one, but two speeches by RTE (the PM). Luckily, I managed to miss them both. His first speech was at the airport, upon his arrival from Algiers via Ankara. First the AKP announced that they didn?t want an audience then I guess they changed their mind. Thousands of SMSs were sent inviting people to the airport, free bus services were arranged from all around the city, and the metro line to the airport was kept open until 4 AM. Normally, the metro shuts down at midnight. During the first few days of the protests, metro service to Taksim was stopped altogether. Let alone free bus rides, traffic was diverted away from Taksim. People came anyway.
Living in Taksim – Daily Report June 6, 2013
Highlight of the day,rather, frustration of the day: PM declared in Algiers that they ?will build the barracks.? No understanding, no empathy, no reason. Luckily, the stock market went downhill after his declarations; that?s the only thing left that might convince him that he?s doing something wrong. He?s back in Ankara as of tonight, was supposed to land in Istanbul by 11 PM, but they keep on delaying it. The Interior Minister gave a speech full of blatant lies. Claimed no police attacked the Swan Park in Ankara, and when people pointed out that was untrue, he claimed that they had it wrong. OK? He also claimed that the injured young man who fell off the construction site of the cultural center the other day was pushed by the protestors. If he could only come to Taksim, he would see how people apologie to one another even if they push each other by mistake ? this isn?t just a lie, it?s slander in its worst form. But this is the man who was the head of Istanbul Police Force when Hrant Dink was murdered. Enough said.
Living in Taksim, Daily Report June 5, 2013
First off: Do not believe the reports in the media saying that Deputy PM Arınç has apologized. His words were directed to a very small group (the activists attacked in the park on the first night of the events), completely disregarding those killed and the thousands injured by police violence since the beginning; and his ?apology? sounded more like a f*** you. Some people have a way of making anything sound that way? (Here?s a Turkish video of the ?apology?)
Living in Taksim – Daily Report June 4, 2013
Spent most of the day indoors again, my cold is receding though. When I went out to the park at around 20:30, it was even more crowded than the previous days. people are celebrating, singing. There's a field hospital, the kitchen is running, and now there's a small library as well. Everyone is kind towards one another – apparently even on the subway. We went to eat something at Kitchenette on the square, the service, which is usually polite but slow, was kind, fast, and as odd as it sounds, gentle. They let people (and there are tens of thousands on the square) use their bathrooms, let them charge their phones and access free wifi.
Living in Taksim – Daily Report June 3, 2013
I've been away from my blog for far too long. This may be a good time to come back, to post my daily experiences during the most unusual times Istanbul has seen in my lifetime. These are just brief notes, nothing too exciting possibly, but as a resident of Taksim, I have a closer view on the park than most people.
Turkey's Erdogan vows to strengthen police powers as dozens detained in raids
ANKARA, Turkey – Scorning international criticism over the force used to quell a wave of anti-government protests, Turkish Prime Minister Recep Tayyip Erdogan on Tuesday defended the nation's police and vowed to increase their powers to deal with unrest.
Standing people in Taksim:
Citizens' assembly in Abbasağa Park:
Merkel's conservatives say Turkey would overburden EU
BERLIN (Reuters) – Chancellor
Angela Merkel
's conservatives have rejected
Turkish membership
in the
European Union
in their
German election
program, saying the country would "overburden" the bloc because of its size and economy. The
Christian Democratic Union (CDU)
and its
Bavarian
sister party, the
Christian Social Union (CSU)
, have long opposed Turkey joining the 27-nation bloc, but haven't
Turkey's 'standing man' shows how passive resistance can shake a state | Richard Seymour
The Turkish government has every reason to panic as its overpowering force is met by Erdem Gunduz's dignified defiance
Erdem Gunduz is a legend. And all he had to do to earn this status was to stand completely still. Gunduz, a performance artist and left-Kemalist, began to stand still in Taksim Square on Monday at 6pm local time. He stood, facing the Ataturk cultural centre, until 2am. It was a silent, stubborn and dignified protest against the brutality of the police response to demonstrators, which had culminated in a sinister weekend assault whose targets included medics and staff who treated the wounded. Indeed, the ministry of health went so far as tothreaten to withdraw the licences of medical personnel who treated protesters injured by police.