Citizens commemorate Sivas Massacre.. An #OccupyTurkey roundup
en.wikipedia.org/wiki/Sivas_massacre?
The Sivas massacre (Turkish: Sivas Katliamı, Madımak Katliamı) refers to the events of July 2, 1993 which resulted in the killing of 37 people, mostly Alevi
More rallies expected tonight in İstanbul and other cities…
via @sirsureyyaonder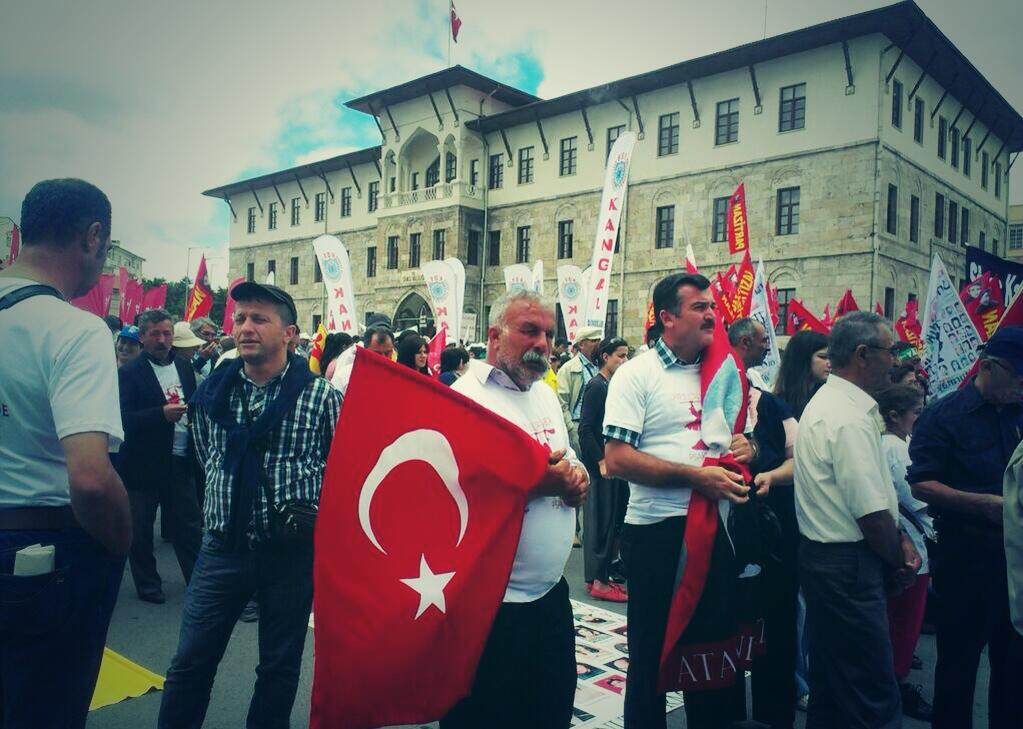 via @140Journos
@alidogalli The police barricades the Madımak Hotel where the massacre happened…
The state, always the same discourse, culprits protected…
Turquie: les artistes condamnent la ?rhétorique haineuse?
Agence France Presse Samedi 29 juin 2013 Ankara Des artistes, journalistes et écrivains turcs, dont le prix Nobel de littérature Orhan Pamuk, ont publié samedi, sur une pleine page dans plusieurs journaux, un appel au gouvernement lui demandant de cesser d?employer une rhétorique de division alimentant, selon eux, la haine dans le pays. L?appel,
Another Viewpoint on the Protests by Alan Scott
I have been following the posts by scholars and others attempting to explain the protest movement that erupted in
Turkey after events in Taksim?s Gezi Park at the end of May. As a foreigner, I have refrained from adding my voice, but as one who has lived in Turkey since 1995, and been a close observer of events over the period, I feel the need to put an alternative point of view
The new face of global protest
The Guardian Weekly (UK) 28 June-4 July 2013, p. 1 Peter Beaumont (Observer) Myriad demonstrations from Istanbul to Rio. Fuelled by anger and distrust of political elite. The demonstrations in Brazil began after a small rise in bus fares triggered mass protests. Within days this had become a nationwide movement whose concerns had spread far
Palestinian-Turkish Gezi victim in good condition
Turkish Lobna Allami, of Palestinian origin, is now in a better condition after a month of treatment that followed her injury at the Gezi Park intervention
En Turquie, une nouvelle génération se politise
Le Figaro (France) no. 21431, samedi 29 juin 2013, p. 10 Laure Marchand, Istanbul Les jeunes mobilisés sur la place Taksim se découvrent une conscience citoyenne et un goût pour l?action. Ayse a traversé la place Taksim, à Istanbul, pour aller récupérer un visa tourisme au consulat allemand, dans la rue en contrebas. En repartant
Turkey protests test Obama's ties with PM Erdogan
WASHINGTON (AP) ? Government crackdowns against protesters in Turkey could test the close ties between President Barack Obama and Turkish Prime Minister Recep Tayyip Erdogan (REH'-jehp TY'-ihp UR'-doh-wahn), a strategically important U.S. ally in a tumultuous region.
Will the ?Gezi effect? rehabilitate Turkish democracy?
The dust of the Gezi protests having settled, the AKP government is now facing tough questions and choices ahead