According to Ministry, 2.5 million people attended Gezi protests across Turkey… Journalists, artists etc continue to be threatened by pro-Gov't circles…
2.5 million people attended Gezi protests across Turkey: Interior Ministry
Some 2.5 million protestors hit the streets across Turkey since the unrest began
Opinion: The threat facing Turkey
Turkey has found itself in the international spotlight over the past two weeks, despite the continuing slaughter in Syria, the Iranian elections, and the tensions in Iraq. The crisis in Turkey, which is escalating, is being covered live second-by-second by the world media.The agenda in Turkey this week was a critical one, of course. The police operation in Taksim Square was covered live by .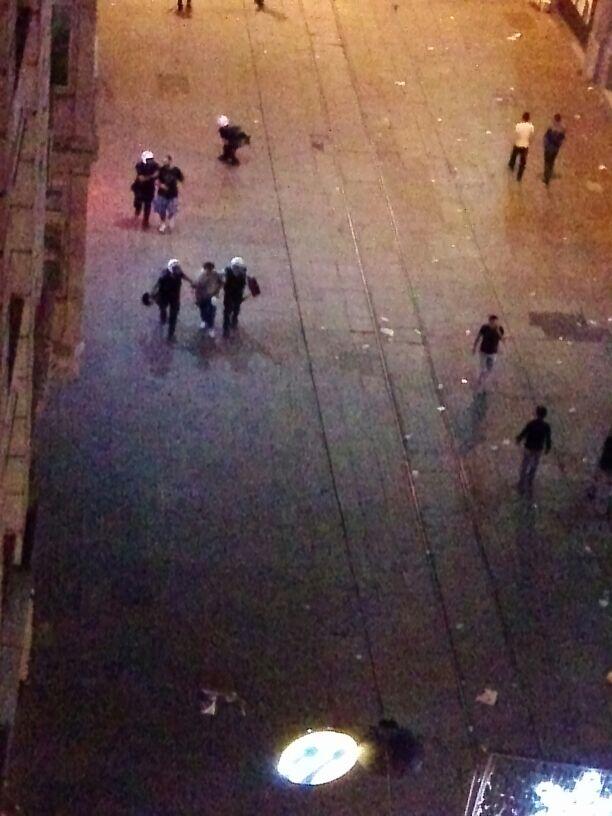 Arrests in İstiklal Street… via @youtorun
Turks, Greeks, Brazilians join in protests in US
EU risks upsetting Turkey with threat to call off talks
By Adrian Croft BRUSSELS (Reuters) – The European Union is on the verge of scrapping a new round of membership talks with Turkey, a move that would further undermine Ankara's already slim hopes of joining the bloc and damage its relations with Brussels. Germany, the EU's biggest economic power, is blocking efforts to revive Turkey's EU membership bid, partly because of its handling of anti
More at Stake Than Gezi?s Sycamores
Carnegie Europe published an analysis of all the various environmental issues that have collectively caused the anxiety and outrage behind the Gezi protests. There are millions more trees involved than the sycamores in Gezi Park. Here is a quick and dirty list of the ?projects? being carried out in frenzied haste without oversight, without consultation, and without scientific impact assessments, most in Istanbul, and their impact (other projects nationally could be added to the list):
In brief: Turkey's loss is Greece's gain
Bookings to Turkey have plummeted since protests began last month, costing its tourism industry an estimated £47m already. As many as 215,862 reservations have been cancelled in Istanbul alone, with thousands more cancelling holidays in unaffected areas on the coast.
Turkish police use water cannon to disperse remembrance gathering
Erdoğan blames foreign-led conspiracy for Turkey and Brazil unrest as protests reignite in Taksim Square
Turkish police used water cannon to disperse thousands who had gathered in Istanbul's Taksim Square on Saturday to observe a memorial for four people killed during recent anti-government protests. The officers later fired teargas and rubber bullets to scatter demonstrators who regrouped in side streets.
The global middle class awakens
Reuters Blogs (blog)
For years, Soli Ozel, a professor of International Relations and Political Science at Istanbul Bilgi University, scoffed at Westerners who viewed Turkey as a model for the Middle East. The new protests, however, make him feel the label may apply
Turkey's ruling AKP replaced Kemalism with Islamism, EP member says
Kemalism has been replaced by Islamism and further progress on accession is no longer possible under the AKP, says British MEP Andrew Duff.
Inconvenient Truths about ?New Turkey?
It may sound odd but, we have to admit that the recent picture of Turkey is shocking, but not surprising
Protests around the world are keeping the spirit of Occupy alive | John Harris
The unrest of 2011 is likely to last for decades. From Istanbul to Rio, it's not about austerity, but the nature of the state
Throughout 2012 and the first part of 2013, a comfy misapprehension seemed to have settled among those whose job is to analyse world events: that, aside from continuing turbulence in the Arab world, the huge surge of protest that defined 2011 had long since died. This plotline was never entirely convincing. It is less than a fortnight since there was ageneral strike in Greece, such blighted eurozone countries as Spain and Italy have hardly been models of quiet and obedience, and protest movements in such wildly diverse countries as Chile and Israel have not gone away. But in the UK and US, the demise of Occupy fed into a banal but effective story: that camping in city squares and decrying the general state of things is so 2011, darling
Protests hurt Turkish PM's plans
TheChronicleHerald.ca
Ilter Turan, a professor of political science at Istanbul Bilgi Universitysays that Erdogan could probably undo the damage if he took a more conciliatory approach, focused on the Turkish economy and got EU talks back on track. But nearly three weeks .
Young, unhappy and out on the streets: Turkey's 'new outsiders'
The Conversation
An online poll carried out by a team of researchers at Bilgi Universityto which 3,000 protesters responded reveal that 64% of the protesters are under the age of 30, 70% do not belong to a political party and 65% describe themselves as secular.
Global protest grows as citizens lose faith in politics and the state
The myriad protests from Istanbul to São Paulo have one thing in common – growing dissent among the young, educated and better-off protesting against the very system that once enriched them. And therein lies the danger for governments
« Printemps arabe » et automne turc
Le Monde (France) jeudi 8 décembre 2011, p. 25 Livres du jour Alain Frachon Ce qui se passe en Turquie est important, et bien au-delà des frontières de cette puissance régionale émergente ? ré-émergente, devrait-on dire. La Turquie est un exemple pour le monde arabe. Son premier ministre, Recep Tayyip Erdogan, s?en vante volontiers