Kitsch is in their nature. Turkey's deputy PM also poses with "Ottoman police" cosplays…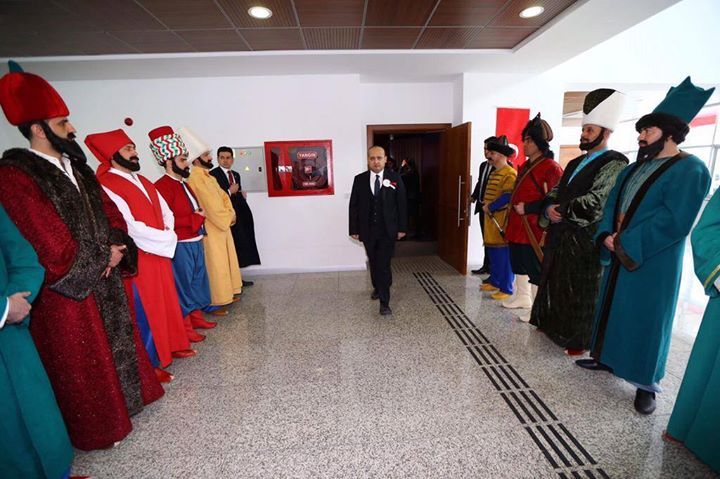 Continuing the new trend of cosplay started at Turkey's new presidential palace where President Erdoğan resides, Turkish PM Davutoğlu and his deputy were welcomed by policemen dressed in Ottoman-era costumes on April 10 in Ankara.
*****************
independent.co.uk
– Apr 8 – Thousands of Turkish students have petitioned their university to build a Jedi temple, in response to an increase in the number of mosques being built on campuses across the country. The country-wide online debate started last month after the…
"Although the call to zero tolerance for torture was continuously reiterated, practices of torture and ill treatment by the police have not ended, and the form of torture reflected on the street has become more visible and damaging," wrote TİHV in their 2014 rights violations report.
Turkey's current account gap stood wider than expected at $3.2 billion in February, the Turkish Central Bank said on April 10.
European Policy Brief (EGMONT) No. 34, March 2015 Egmont – Royal Institute for International Relations By François Koch * A first assessment is that this would not work", EC Vice-President in charge of Energy Union Mr. Maros Sefcovic said in an interview with The Wall Street Journal at the World Economic Forum in Davos on
Bans on social media networks are 'not appropriate' according to basic democratic standards, said European Parliament President Martin Schulz
Twitter and YouTube were temporarily blocked after they failed to respond to an order to remove content showing a hostage taker pointing a gun at Mehmet Selim Kiraz.
The names of four former cabinet ministers who were accused in Turkey's largest ever corruption probe are not on the April 7 candidate list of the ruling Justice and Development Party (AKP).
Turkey takes action against 'terrorist propaganda'.