New examples for The misery of pro-Gov't media in Turkey… An #OccupyTurkey roundup…
This is Turkey's public news agency, AA's Twitter account. In one hour, it sent 5 Tweets about the anti-CNN protest in New York. In Turkish version, it said masses attended the protest….
via @GurbetName
Here is the actual photo of the protest. 5 of the same family seem to have attended the event:
via @GurbetName Oh here is another photo where 9 protesters can be seen:)
A pro-government Yellow Press daily Takvim published this pro-CNN photo instead the actual one above..
via: @sarkanaltunigne
As you can see in the photo, banners are supporting CNN but Takvim seems to be believe that its readers are not intelligent enough…
*********
In the mean time, here is a photo from yesterday's demonstrations. Police is keen to protect the heart of Square: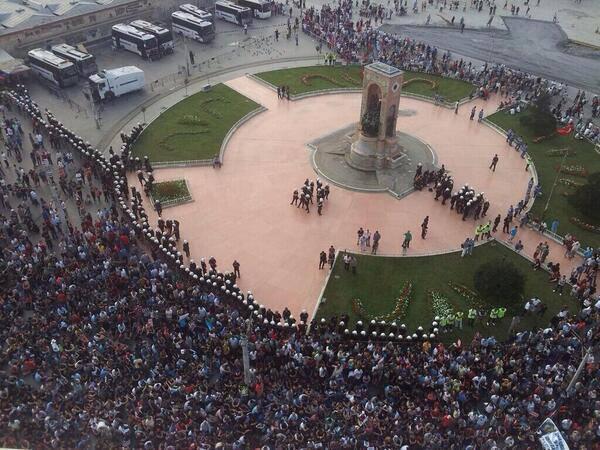 via @ebsvc
via @Masal_ortusu
Workers and BDP members march in Istanbul to protest Lice clashes
Turkish public sector workers joined BDP members in a peaceful march through Istanbul to protest the killing of a demonstrator in Diyarbakır's Lice district
Thousands march in Istanbul in solidarity with Kurds
Protesters chant anti-government slogans in wake of killing of Kurdish demonstrator in south-east Turkey on Friday
Thousands of protesters marched to Istanbul's Taksim Square on Saturday chanting slogans against the government and police after security forces killed a Kurdish demonstrator in south-east Turkey.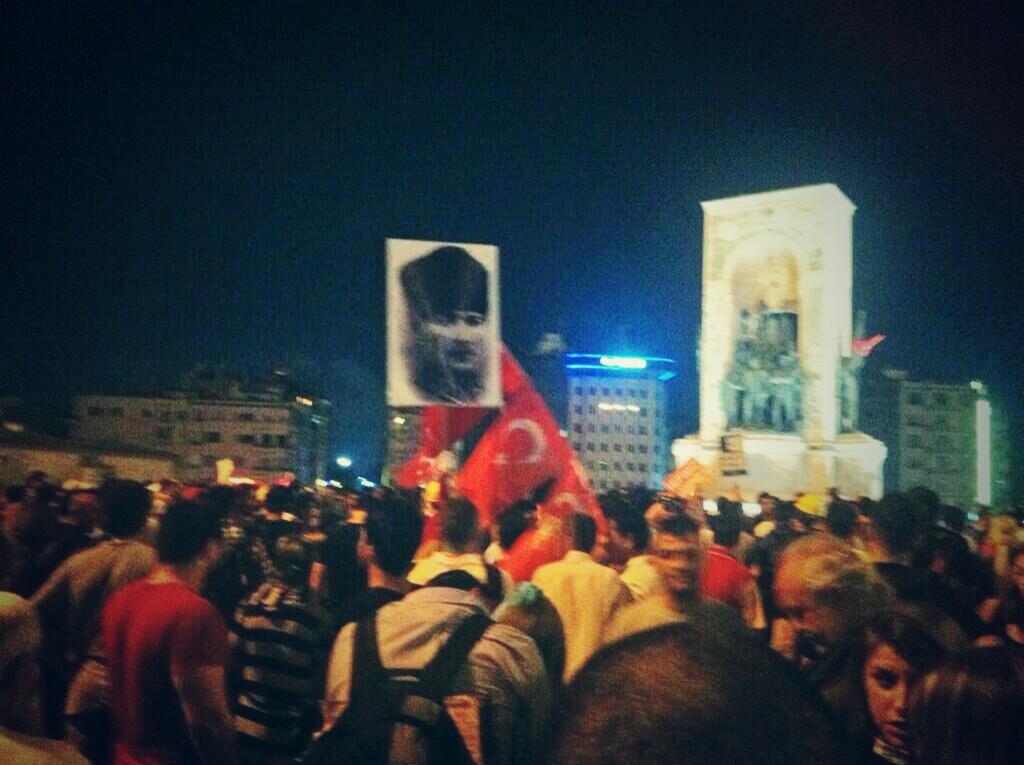 Taksim Square midnight. via Tuğba Tekerek
In Brazil, Turkey, and Chile, Protests Follow Economic Success
Turkish daily Takvim files complaint against CNN's Christiane Amanpour
Daily Takvim has lodged a formal complaint against CNN International and its anchor Christiane Amanpour for their 'false' coverage of the Turkish protests
Mayor of Ankara: the diary of a troll
Soon after PM Erdogan`s comment on Twitter, detentions started for users who shared comments critical of the government or the police
Gezi protests started as a small, localised environmental protest against the destruction of one of the few remaining green spaces in central Istanbul. Though what made thousands join the protests has been the sheer police violence against the peaceful protesters in Gezi Park – just another sign of the government`s attitude of ?anything goes, once you are elected democratically?.