Cyberculture agenda: "The Intercept begins publishing Snowden doc
The 166 articles we're releasing today from an internal NSA publication,SIDtoday, were subjected to a careful process of research, editorial evaluation, legal review, reporting, redaction, and digital processing. This article explains how that process worked.
The Intercept has begun publishing a large tranche of NSA documents leaked by Edward Snowden. All 166 articles from SID Today, an NSA internal newsletter, are coming in the first portion of Snowden docs that The Intercept will release, with more to come
In the early months of 2003, the National Security Agency saw demand for its services spike as a new war in Iraq, as well as ongoing and profound changes in how people used the internet, added to a torrent of new agency work related to the war on terror, according to a review of 166 articles from a restricted agency newsletter.
Can social media data be used to predict the outcome of the 2016 US Presidential Election? There are a few factors to consider.
Donald Trump understands minority communities. Just ask Pepe Luis Lopez. He's one of Trump's 7 million Twitter followers. One problem: he's not a person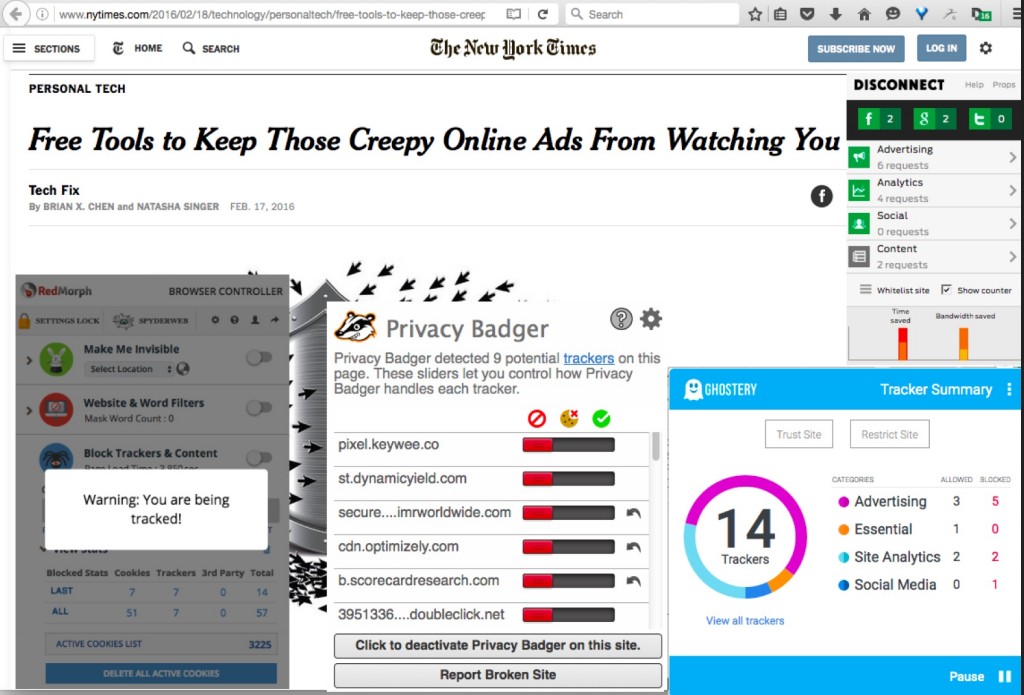 This interesting illustration comes from a typically-insightful piece by Doc Searls about the blight that covert web-tracking has unleashed on the Web. Interestingly, he points out that the trackers are, in fact, not important for theTimes.
On Saturday, the Associated Press announced that in the 2016 edition of their widely-used AP Stylebook guide to English grammar and usage, the words "internet" and "web" will no longer be capitalized.
New Report Analyzes How Crypto Backdoors, Interference with Crypto, and Compelled Disclosure of Encryption Keys All Impact Free Expression and Privacy
Defending encryption is a human rights issue, according to a new Amnesty International report. The report calls on nation-states to promote the use of encryption tools as part of their international human rights obligations to protect the privacy of their populations.
When it comes to hacking, US law enforcement agents are as much the perpetrators as the ones chasing the criminal perps.
Bots are a constant thorn in the side of the digital advertising industry. They are becoming more sophisticated, and thus more difficult to track and remove. And with the rampant fraud, advertising online might seem a futile endeavor.
A report from the Outdoor Advertising Association of America (OAAA) suggests that it's time for digital advertisers to get realistic. The digital media industry continues to pour budgets into advertising, with bigger, more expensive campaigns, and much of that money is wasted on bots.