Snowfall paralyses İstanbul. No more boasting about AKP's municipalities…
AKP boasts about its philosophy of municipal administration and we see it deteriorates day by day. Istanbul's traffic and infrastructure has entered a stage of decline after successful first years under AKP rule.. 
A new wave of cold air and snowfall has hit Istanbul, as no vehicles are allowed to hit the roads without chains on their wheels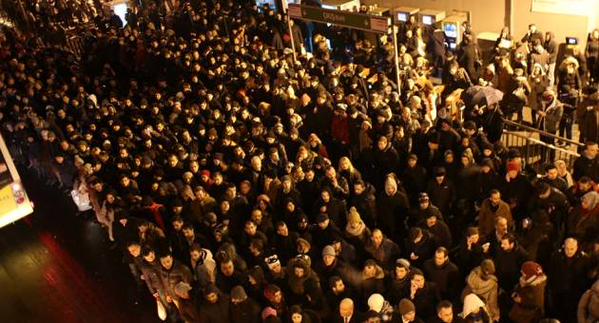 Hagia Sophia: Istanbul's Mystery Preview
Airing
February 25, 2015 at 9 pm
on PBS Watch online: Hagia Sophia:
Istanbul's
Mystery Preview from NOVA. On demand, streaming video from PBS.
Fire, earthquakes and Westernizing, modernizing efforts have taken their toll on Istanbul. The loss can't be recouped
A group of NGOs has objected to a recent ruling by a number of Istanbul's municipalities that will allow higher buildings to be constructed on the banks of the Bosphorus.
The depreciation of the Turkish Lira against the greenback will not hamper Istanbul's planned third airport, Prime Minister Ahmet Davutoğlu said as he inspected the construction site of the giant, controversial project on Feb. 12
On a recent rainy Saturday in Istanbul, the mood was so gloomy that a roomful of macro-economists were at pains to admit that the sharp fall in the oil price since June 2014 would actually benefit a lot of people. On display was an impressive assortment of "two handed economists", who saw almost as many losers as winners. They cited negative effects on fiscal balances in oil exporting countries, investment declines because of uncertainty, and demand shortfalls in countries in which consumers are still deleveraging after the Global Crisis. In addition, the gains in many countries would be tempered by government interventions, which may reduce subsidies or raise taxes without translating fiscal space into higher spending.
An architect in Istanbul for 14 years now, Torun started his own minimalist photography project on Instagram last year (@cimkedi) after noticing how
Istanbul's disappearing past
"Accessing and discussing the underground world beneath Istanbul is truly an ambitious enterprise. Surprisingly few archaeological excavations have
Yes Men are coming to town for !f İstanbul indie film festival
The 14th !f İstanbul International Independent Film Festival will hold screenings in three cinemas — the Cinemaximum Fitaş in Beyoğlu, the