Bildiri: #GazetecilerDerhalBırakılsın [Set Journalists Free, Now!]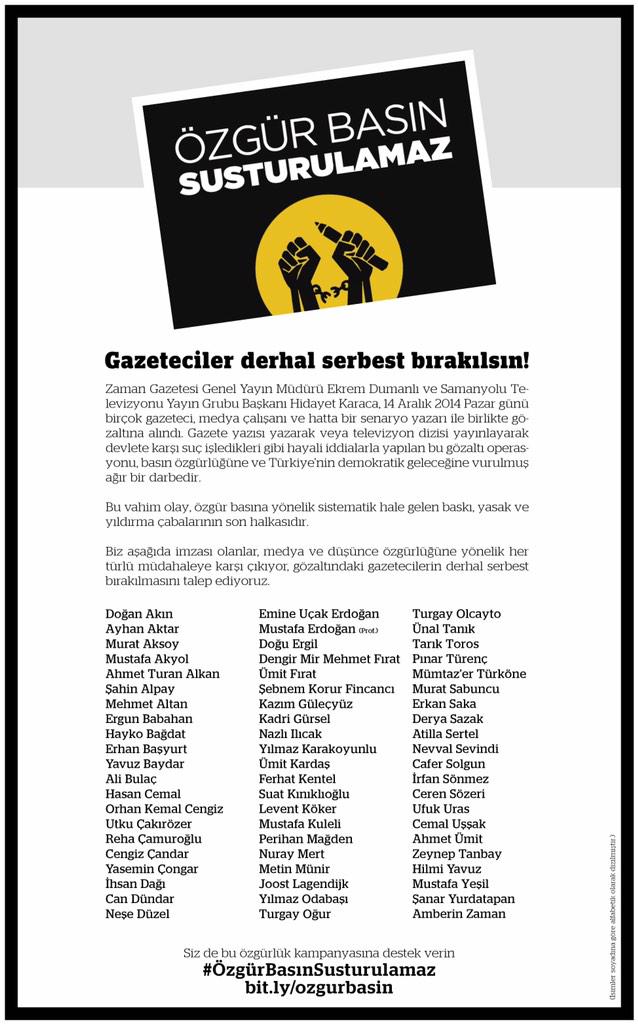 Change.org Kampanyası. Destek için tıklayınız.
Gazeteciler Derhal Serbest Bırakılsın ! / Set Journalists Free, Now!
Özgür Basın Susturulamaz
Türkiye
GAZETECİLER DERHAL SERBEST BIRAKILSIN!
Zaman Gazetesi Genel Yayın Müdürü Ekrem Dumanlı ve Samanyolu Televizyonu Yayın Grubu Başkanı Hidayet Karaca 14 Aralık günü onlarca gazeteci, medya çalışanı ve hatta bir senaryo yazarı ile birlikte gözaltına alındı. Gazete yazısı yazarak veya televizyon dizisi yayınlayarak devlete karşı suç işledikleri gibi hayali iddialarla yapılan bu gözaltı operasyonu, basın özgürlüğüne ve Türkiye'nin demokratik geleceğine vurulmuş ağır bir darbedir.
Bu vahim olay, özgür basına yönelik sistematik hale gelen baskı, yasak ve yıldırma çabalarının son halkasıdır.
Biz aşağıda imzası olanlar, medya ve düşünce özgürlüğüne yönelik her türlü müdahaleye karşı çıkıyor, gözaltındaki gazetecilerin derhal serbest bırakılmasını talep ediyoruz!
#GazetecilerDerhalBırakılsın
——————————————————————————————
SET JOURNALISTS FREE, NOW!
Zaman daily's Editor-in-Chief Ekrem Dumanlı and Samanyolu Broadcasting Group's Chairman Hidayet Karaca were detained together with tens of journalists, media workers and even a screenwriter on Dec.14, on charges of attempting to overthrow the Turkish government by broadcasting soap operas and publishing news articles. This is a heavy blow against the freedom of the press and the democratic future of Turkey.
This deplorable incident is the latest example of systematic attempts to pressure, prohibit and intimidate the media in Turkey.
We, the signatories below, are objecting to any intervention to the freedom of press and freedom of expression. We demand the immediate release of all the detained journalists now!
#SetJournalistsFree
——————————————————————————————
İMZALAYANLAR / SIGNATORIES
Doğan Akın
Ayhan Aktar
Murat Aksoy
Ahmet Turan Alkan
Şahin Alpay
Mehmet Altan
Ergun Babahan
Hayko Bağdat
Erhan Başyurt
Yavuz Baydar
Ali Bulaç
Hasan Cemal
Orhan Kemal Cengiz
Utku Çakırözer
Reha Çamuroğlu
Yasemin Çongar
İhsan Dağı
Can Dündar
Neşe Düzel
Emine Uçak Erdoğan
Mustafa Erdoğan (Prof.)
Doğu Ergil
Dengir Mir Mehmet Fırat
Ümit Fırat
Kazım Güleçyüz
Kadri Gürsel
Nazlı Ilıcak
Yılmaz Karakoyunlu
Ümit Kardaş
Ferhat Kentel
Suat Kınıklıoğlu
Levent Köker
Mustafa Kuleli
Perihan Mağden
Metin Münir
Yılmaz Odabaşı
Turgay Oğur
Turgay Olcayto
Ünal Tanık
Tarık Toros
Pınar Türenç
Mümtaz'er Türköne
Murat Sabuncu
Erkan Saka
Derya Sazak
Atilla Sertel
Nevval Sevindi
Cafer Solgun
İrfan Sönmez
Ceren Sözeri
Ufuk Uras
Cemal Uşşak
Zeynep Tanbay
Hilmi Yavuz
Mustafa Yeşil
Şanar Yurdatapan
Amberin Zaman
(İsimler soyadına göre alfabetik olarak dizilmiştir. / Signatories are listed in alphabetical order by their surnames)