A failing start for Ekmeleddin İhsanoğlu's media campaign #ekmekicinekmeleddin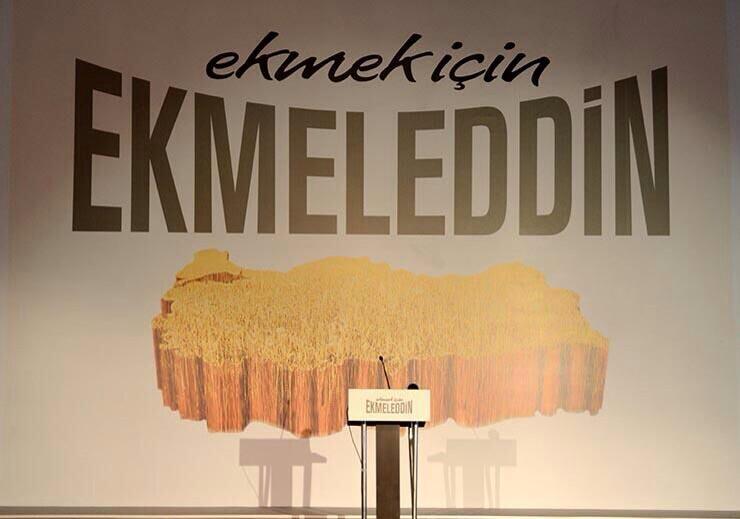 This logo above is, officially announced today, for Ekmeleddin İhsanoğlu, major rival of Recep Tayyip Erdoğan, in Turkey's presidential race that will take place in August. "Ekmeleddin for Bread"
In my summer school course today, which focuses on storytelling, the best explanation we found is that this might target Central Anatolian villagers community. The poster looks like center right party posters of 1950s and 1960s… Even the font reminds one old times. This might be a desire for the old regime for the old days, but Turkish population now lives mostly in cities. This imagery says nothing about contemporary Turkey.
I do believe Mr. İhsanoğlu's statements are reasonable, and well targeted but his media imagery failing probably due to some incompetent advisors. Last Sunday this scandalous image olsa appeared:
"Türk Solu" magazine, although it says "Turkish Left" is a small explicitly racist magazine. Mr. İhsanoğlu may not know it but his advisors must have warned him. This photo was widely circulated among AKP circles…
Bread is a sanctified food but still it is hard to guess why it was chosen. Bread is sometimes used in leftist imagery symbolizing relation between labor and subsistence but I am not sure this was aim, I don't believe a left wing populism is aimed.
Many memes and images appeared:
Opposition presidential candidate İhsanoğlu pairs name with bread in campaign slogan
Opposition presidential candidate Ekmeleddin İhsanoğlu, has unveiled his official campaign slogan, pairing his name with the word 'ekmek,' which in Turkish means 'bread' when used as a noun
For fun, pro-Kurdish candidate, Mr. Demirtaş for Kurdish Börek:
Biscuit for Devlet Bahçeli:
A Kurdish star rising in Turkish politics
Not more than five years ago, Selahattin Demirtaş was only a name familiar among human rights circles in Turkey.
Controversial article of Kurdish bill amended upon AKP's proposal
The ruling AKP is set to amend a controversial article of its latest Kurdish reform bill, which has been widely criticized as it could be exploited for illegitimate or illegal activities operated or coordinated by public servants.