PM Erdoğan himself says 232 dead as of 14:30 in #Soma Mining Explosion #KazaDegilCinayet
https://twitter.com/hilajim/status/466539464769421315
Rihanna'nın "Soma" kapak fotoğrafı: pic.twitter.com/yj1Hk0gBfJ

— Kutsal Bayraktar (@mortifera) May 14, 2014
VİDEO: Soma'nın çığlığı… "Bana Mesut'tan haber verin…" @renginarslan 'ın görüntüleri http://t.co/6tarPGzSWb pic.twitter.com/EUeiit2MXO

— BBC News Türkçe (@bbcturkce) May 14, 2014
https://twitter.com/yusufsinanc/status/466532434171793408
https://twitter.com/erdierge/status/466515757254606848
Yasımız,derin üzüntümüz,emeğe saygımız ve göstermek istediğimiz dayanışma sebebiyle MayFest 2014 iptal edilmiştir. pic.twitter.com/U1CfE3SQFh

— Bilgi Üniversitesi (@BiLGiOfficial) May 14, 2014
12:52 #Manisa #Soma – Ekipler madenden cenazeleri çıkarmaya devam ediyor. @KamilAgaoglu pic.twitter.com/1kCjE8Mgpu

— 140journos (@140journos) May 14, 2014
https://twitter.com/ayagakalktaksim/status/466517784235896832
https://twitter.com/avcimucahit/status/466328940408492034/photo/1
https://twitter.com/theoxymoronist/status/466512052849106944
'Yan yana öldüler, yan yana gömülüyorlar' http://t.co/dMY6k7dUsB pic.twitter.com/lDBbbazl4q

— Al Jazeera Türk (@AJTurk) May 14, 2014
Miner says: "let me take off my boots so stretcher doesn't get dirty".. Beautiful soul http://t.co/paCpqj1FDC pic.twitter.com/KW33BPQQZg"

— Ziya Meral (@Ziya_Meral) May 14, 2014
— Qestuka (@Qestuka) May 14, 2014
https://twitter.com/akgn_tuncayakgn/status/466357040378818560
https://twitter.com/Meralink/status/466540390225436672
https://twitter.com/basakgucyeter/status/466524192905519104
https://twitter.com/pudra_sekeri/status/466529688694054912
https://twitter.com/zerdacal/status/466530260629356545
Tekrar anladık ki, sendeki göt kimsede yokmuş. @rihanna

— Selcan Aydın (@falanca) May 14, 2014
Because;
Turkish state didn?t signed ?Safety and Health in Mines Convention?, they have to sign it 19 years ago. (Source ? TR)
Prime Minister has the right to give license to mining companies. (Source ? TR)
In Turkey, work safety is just a thing that reduces companies profit. If you care about work safety and want to force companies about that, you?re the enemy of Turkey?s economy.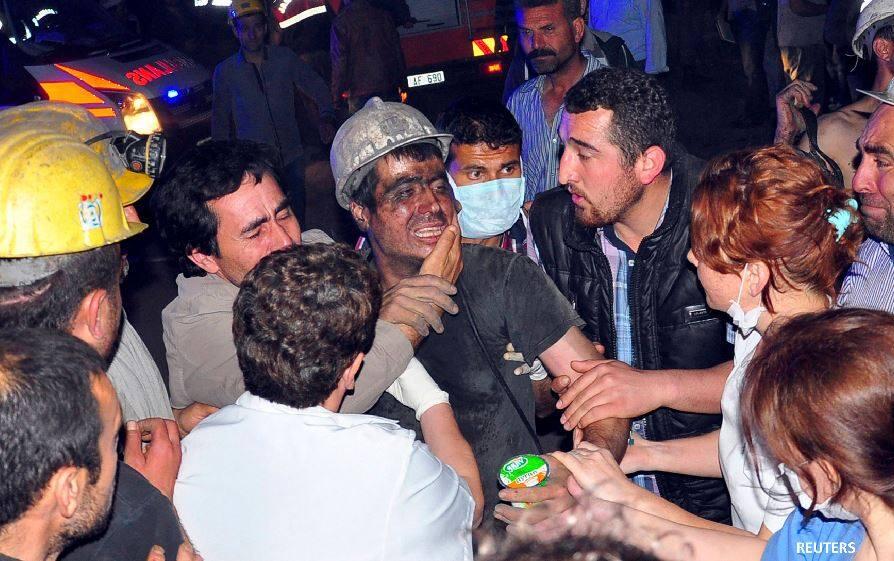 World leaders have started offering their condolences to victims of the mining explosion in Soma.
Security camera footage has been revealed, showing workers trying to evacuate a coal mine in the western province of Manisa?s Soma district right after a fire broke out.
The main opposition CHP submitted a motion to Parliament last year to investigate work-related accidents at coal mines in Soma, only for the proposal to be rejected with votes from the AKP
Here is a list of the 10 worst coal mine disasters around the world.