Erdoğan denies Taksim for Labor Day, desires more polarization before the Presidential Elections
As a master tactician, he knows that he can only survive with dedicated disciples in a politically polarized environment. Espcially before the Presidential elections in August. Today he announced he will not let Labor Day celebrations in Taksim. Just 4 years ago, AKP was boasting that Labor Day could be celebrated in Taksim thanks to them: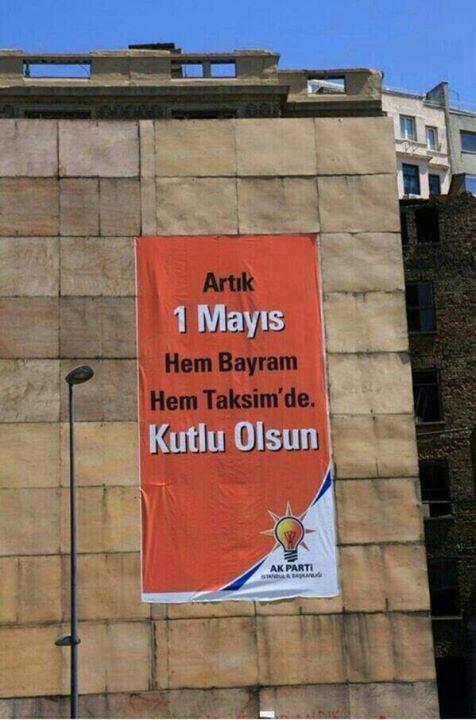 Taksim and Kadıköy are Forbidden For Demonstrations, PM Says
?No to Taksim Sqaure, no to downtown Kadıköy district. Demonstrations are forbidden there from now on,? Prime Minister Recep Tayyip Erdoğan said
Hurriyet Daily News
Turkey?s Interior Minister Efkan Ala has given a clear signal that the government is not responsive to demands for the use of Taksim Square for May Day demonstrations
********************
Water cannon footage scanned to find killer of 15-year-old Gezi victim
An expert report has been prepared, based on newly emerged footage showing the day when Berkin Elvan was fatally wounded
Forensics Fail to Detect Berkin Elvan?s Cause of Death
While Berkin Elvan?s autopsy report have been released this morning, it failed to provide a ?certain? cause of death as it only contained footage on police intervention and no capture of Berkin.
Turkish university cancels homosexuality conference amid Hizbullah fear
A panel focusing on homosexuality has been canceled by Mardin Artuklu University (MAU) in southeastern Turkey after a media outlet close to Hizbullah described the event as ?immoral.
Turkish authorities 'allowed fighters to enter Syria through a strategic border post to carry out assault on Armenian town of Kasab', the Telegraph reports