Erdoğan's fight with Gülen movements starts the disintegration of Ergenekon Case. İlker Başbuğ, former chief of staff, released this evening…
In his personalized fight against Gülen movement, Erdoğan seems to be looking for help from Kemalists and for military elites, as the special courts to overview the so-called Ergenekon trial closed, one of the earliest to be free is İlker Başbuğ, former chief of staff…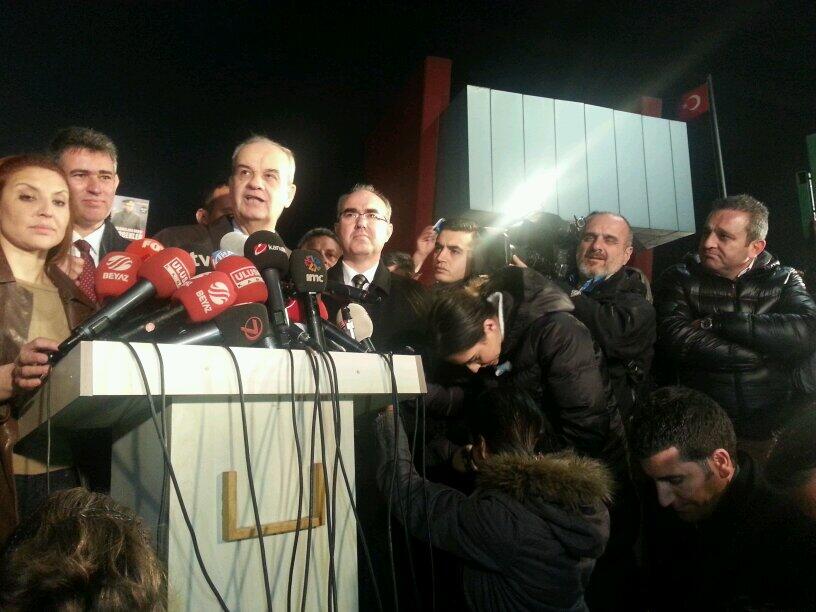 Turkey?s former Chief of Staff İlker Başbuğ to be released from jail after top court ruling
The decision on İlker Başbuğ's release comes one day after the Constitutional Court ruled that his imprisonment was a 'rights violation'
Turkey ex-army chief in dramatic reprieve
Former army chief of staff was set free by local court a day after the country?s constitutional court found his imprisonment violated his rights
Youtube and Facebook May Be Banned In Turkey, Again
Taco Cowboy writes "Istanbul (dpa) ? Turkish Prime Minister Recep Tayyip Erdogan is considering banning YouTube and Facebook after local elections at the end of this month, according to remarks carried by local media Friday. It may, or may not be related to the criticisms arising from (not-yet verified) leaked recordings of Mr. Erdogan's involvement with corruption.
Half million wiretapped in Turkey in last two years: Communications body
The figures are ?out of hand,? the defense minister said
Millions flock to AKP rallies in Niğde, Elazığ, Angara, Siberia, Middle-Earth (!)
The AKP has stepped up its game, organizing massive rallies in the country, the planet and beyond, in search of new places to boldly go in which to share its enthusiasm and exuberance
Turkey: Walking a Tightrope over Crimea
The Russian-Ukrainian crisis over Crimea is forcing Turkey into a delicate balancing act: Ankara feels a need to be seen as a protector of the peninsula?s Tatar minority, yet it does not want to vex Russia?s paramount leader Vladimir Putin in a way that complicates Turkish-Russian economic arrangements.
Turkey sets Aug 10 for presidential election: source

Turkey will hold a presidential election on August 10 after incumbent Abdullah Gul's seven-year term expires, a source in the prime minister's office said on Friday. It will be the first time Turkey's head of state is elected by the voters and not by the parliament following a change of the constitution. Prime Minister Tayyip Erdogan has signaled possible interest in the president's job but only