Saturday Night in #OccupyGezi. Will be hard to justify Osman Erden's detainment by Turkish authorities…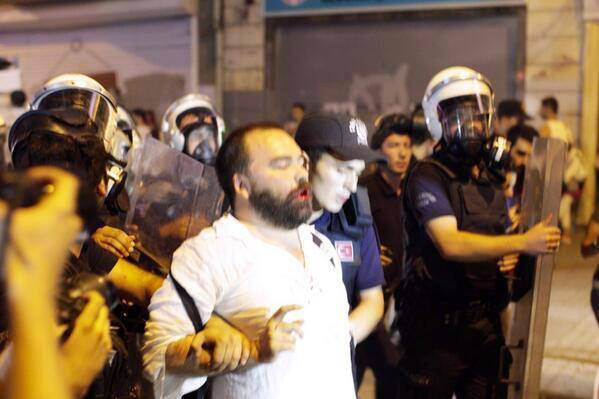 Osman Erden, Art historian, AICA Turkey President, Associate Professor detained as he was trying to save a female activist from harassment. Not the harassers but the citizen who tries to help is detained after beaten by police…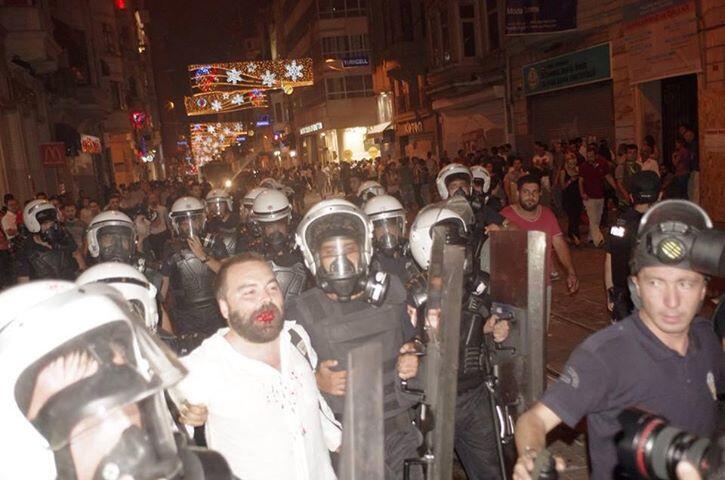 Meanwhile in Antakya: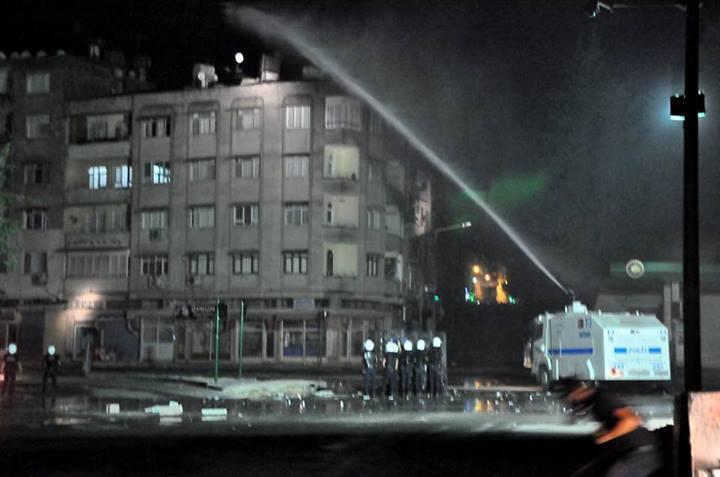 via @sinan_fdn Armutlu, 13 July 2013 night… There have been ongoing protests and police violence in Armutlu, Antakya in the last couple of days…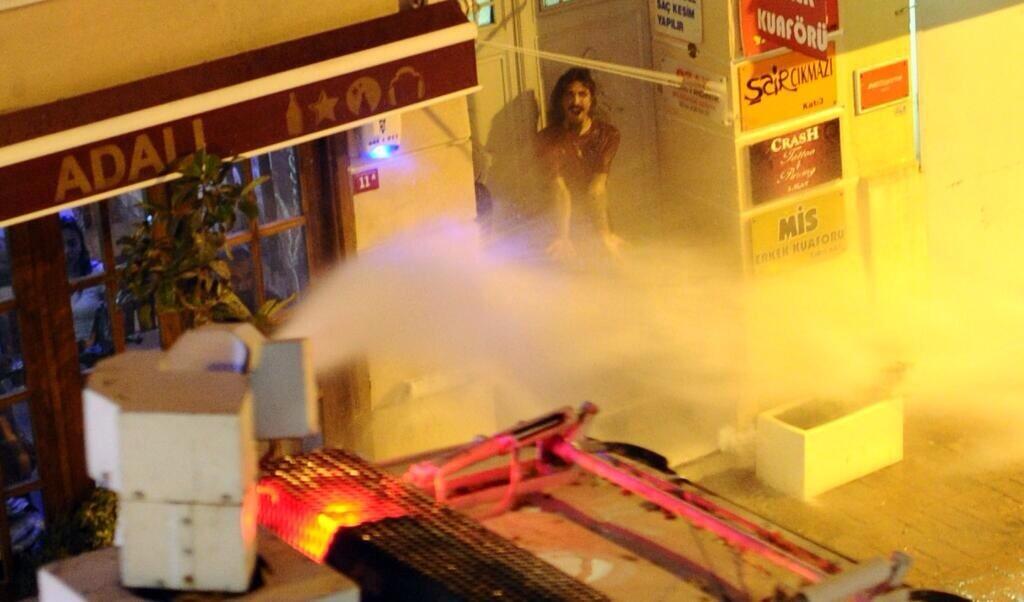 13 July 2013 Taksim, Istanbul via @ipekatcan
Again in Taksim today, some shop owners attacked protesters:
Everytime PM Erdoğan encourages vigilante justice, more civilians joins police forces to attack protesting citizens.
Here are some of those attackers: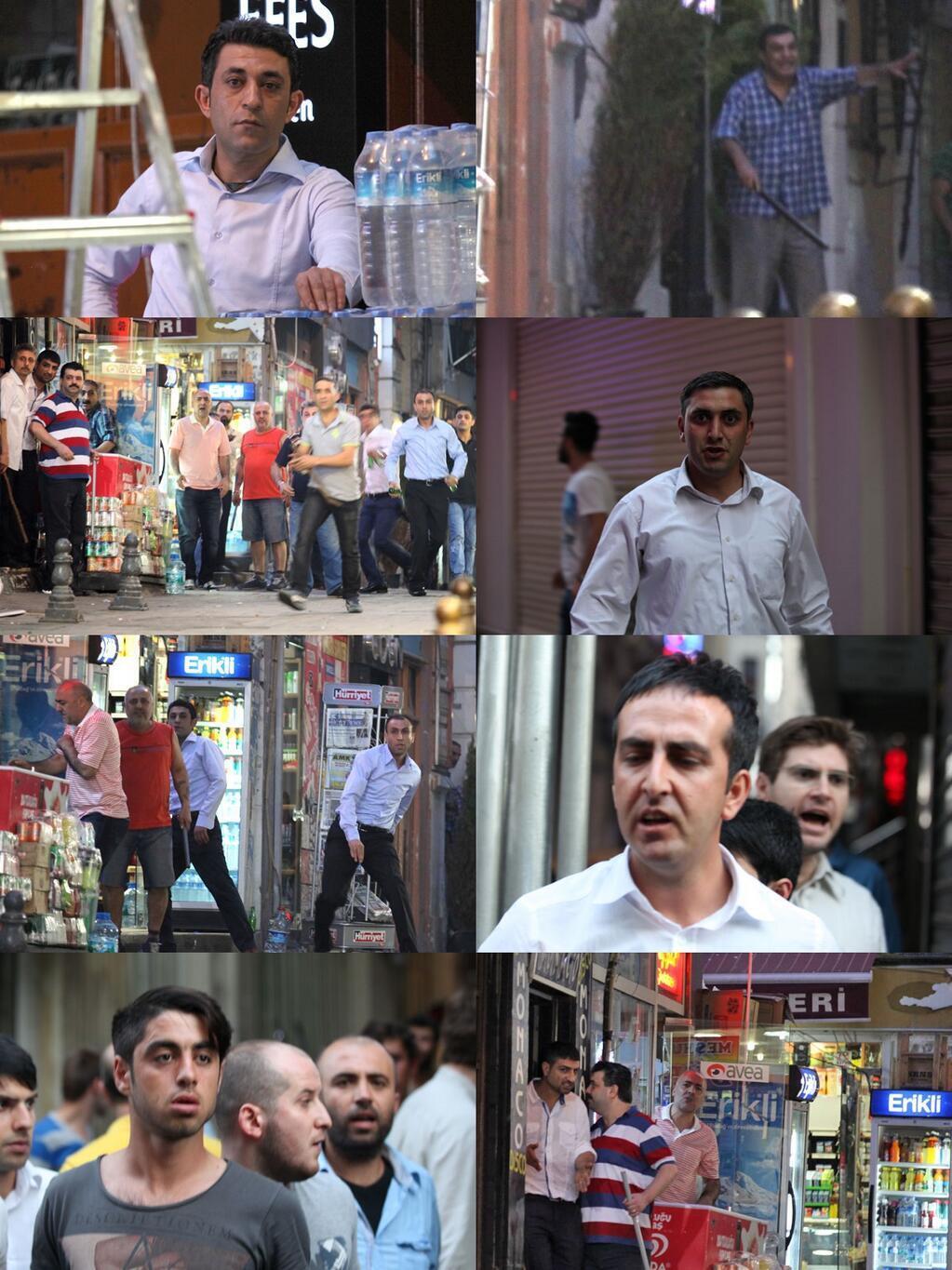 Meanwhile in Ankara: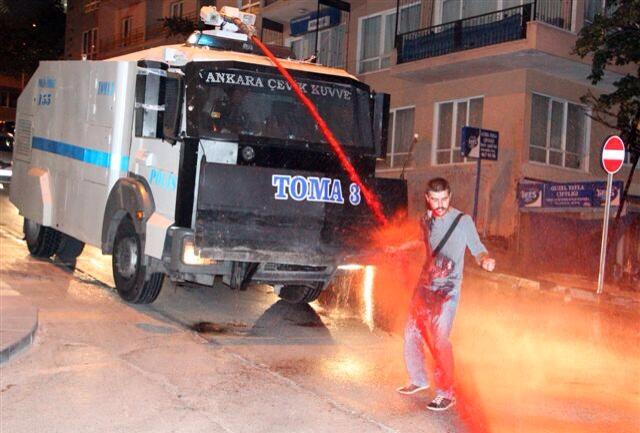 Ankara today was also place to protests…
İstiklal Street at the moment…
Police fire water cannons, tear gas to quell protesters gathered to support chambers
Police have fired water cannons to the several thousand Gezi protesters gathered to support the chambers against a bill issued by the Parliament this week
Police fire water cannons, tear gas to quell protest as baton-wielding shop owners threaten reporters
Police have once again fired water cannons and tear gas against protesters while shop owners threatened them with batons
Some more Rights related news from Turkey who is going towards  a Police State status… 

Families of slain Gezi and Lice protesters in emotional meeting
The family of a protester killed in Ankara visited the mother of a demonstrator shot in Lice
Protesters in Ankara denounce midnight bill sidelining chambers in urban planning
Gezi protesters and members of the Chamber of Architects and Engineers? have held a demonstration in Ankara denouncing a bill sidelining it in urban policies
Siirt deputy mayor caught red-handed in the act of abusing two minors
The deputy mayor of the southeastern city of Siirt was arrested today after he was caught in the act of abusing two sisters aged 13 and 17-years-old
Court refuses demand of release of 67 Ergenekon suspects, bar head slams decision
A court refused the demand for the release of 67 Ergenekon coup trial suspects despite the abrogation last week of a provision allowing detentions of up to 10 years
Groups organize iftar in Istanbul neighborhood in response to civilian attack on Gezi supporters
A group including the Anti-Capitalist Muslims organized a fast-breaking dinner in the Kocamustafapaşa neighborhood of the conservative Istanbul district of Fatih
Rights Groups Accuse Turkish Police of Excessive Force Against Protesters
A report released by an international medical rights group indicates that Turkish police displayed ?excessive and unnecessary use of force? to stop antigovernment protests.
There is so much sorrow going on for a ?normal? person in Turkey right now that it is difficult to stay ?normal?
Turkish journalists hit street to denounce police brutality during Gezi protests
Journalists came together at Galatasaray Square to protest what they termed the continual violence and pressure they have faced since the Gezi Park protests began
Police denies role in missing footage of attack on Gezi protester
The Turkish Police Department announced today via Twitter that an investigation is continuing into the death of 19-year-old Gezi Park protester, Ali İsmail Korkmaz
Beating Scenes ?Missing? in Footage
Prosecutors obtained a footage from the ?broken? surveillance camera nearby the crime scene of Ali Ismail Korkmaz beating. The footage, however, didn?t include any attack scenes – a controversial situation that made Korkmaz?s family advocate suspicion on evidence obscuring.
Suspect Flees Abroad As Judge Releases For ?No Runaway Risk?
Sabri Çelebi, a man who attacked Gezi Park demonstrators with a machete, has been released by a court. ?All newspaper covering the issue before final court decision are responsible for this,? advocate Hacer Yılmaz told bianet.
111 Media Workers Suffer From Police Intervention in 40 Days
According to statistics by Fotoğraf Vakfı (Photography Foundation), 111 journalists and documentary photographers suffered from police Intervention in 40 days by either being injured, detained, barred from working.
Court finds student guilty in ?poshu case?
High Court of Appeal has approved the four years and two months jail term for Cihan Kırmızıgül, a university student who was arrested in 2010 for ?possession of explosive material and using it as a terrorist activity.?
Parents win right to name child 'Kurdistan' in Turkey
Turkey's highest court on Saturday allowed a Kurdish couple the right to name their daughter "Kurdistan", a word historically banned because it was considered seditious, local media said.