Turkey's shame record at #OccupyGezi grows: Pepper Gas thrown at British Consulate, more Police violence over protesters this evening…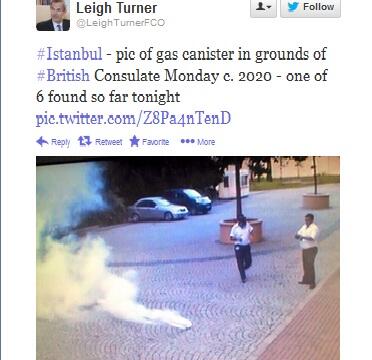 Excessive use of force during Gezi protests should be punished: Council of Europe
The Council of Europe commissioner has said the excessive use of force during the Gezi protests should not go unpunished
Istanbul's Gezi Park closed to public again hours after official opening
Taksim
Gezi Park, which has become the heart of the anti-government movement sweeping the nation, was briefly opened to public use today
Egypt and Turkey: Illiberal Democrats, Undemocratic Liberals, and the Third Way?
Ömer Taşpınar has written an insightful essay examining what Egyptians are debating about Turkey and what the Turkish media are saying about Morsi and the Egyptian coup. The Turks, not surprisingly, ?talk Turkey through Egypt? ? just replace Mohammed Morsi with Recep Tayyip Erdoğan.  Not surprisingly, the pro-Morsi camp in Turkey is mostly AKP supporters.
Gezi protests transform into nationwide forums
The Gezi Park protests have taken a different turn, as parks across Turkey become speaking assemblies
Crowds denounce police crackdowns in ?Man Made of Tear Gas? Festival on Istanbul?s Asian shore
Thousands of protesters gathered along the shores of Istanbul's Kadıköy district for to denounce the crackdowns on Gezi demos
Gezi-Wiki and Other Techno-Tales
Some interesting Gezi-related techno-factoids from a Forbes article, with a comparison to Egypt.
1. hashtags: The most popular Twitter hashtag ?direngezipark? was tweeted 1.8 million times in three days, more than the most popular hashtag of the entire Egyptian uprising in 2011.
Father of ?man with machete? who attacked Gezi protesters, apologizes to Turks, Kurds
The father of the man who attacked Gezi Park protesters July 6 with a machete in his hand said what his son did was ?unacceptable?