An ominous day in #OccupyTurkey More than 400 arrests, Appearance of Thugs in Istanbul….
I am glad that most of Occupiers decided to go back home in order to prevent provocations with these appearing thugs….
via @mkozturk
These were men who skipped AKPs peaceful celebration of its power. They were running through Asmalimescit with clubs in hand, shouting ?God is Greatest?:
Here's pro-AKP thugs: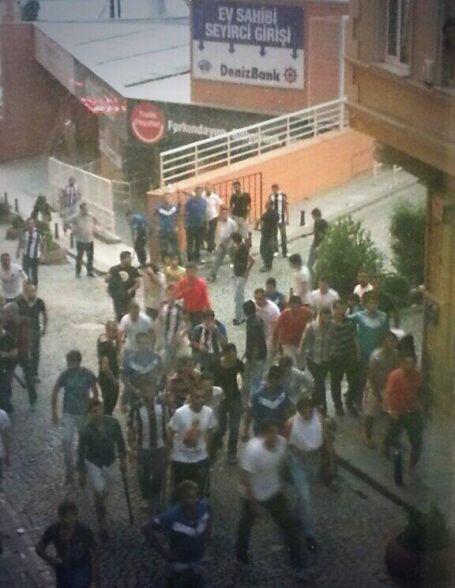 Here is another video: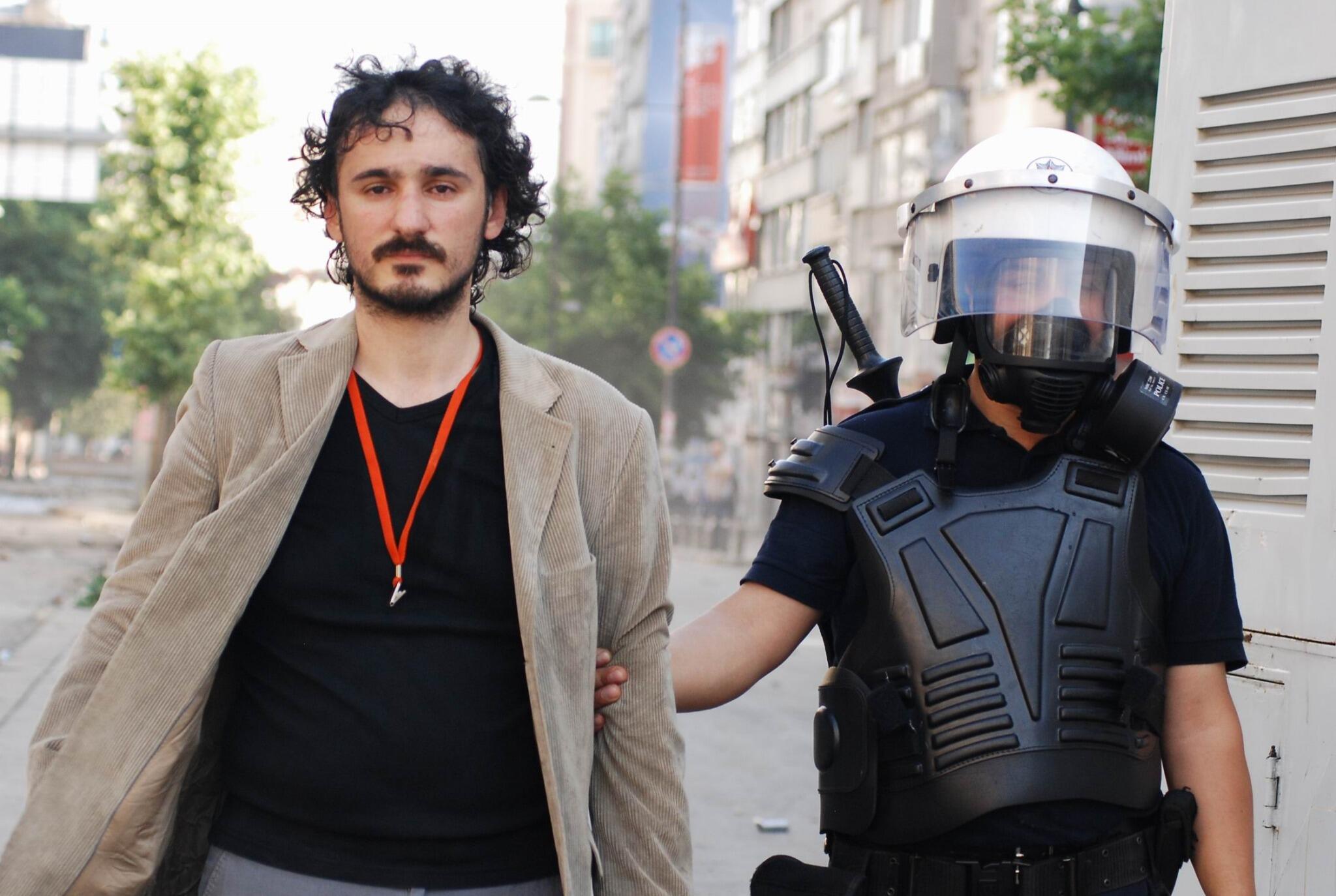 Journalist Gökhan Biçici detained today. Here is another view from the detention:
Turkey turmoil could lead to new flash points
Turkey PM says 'duty' to oust protesters as clashes rage
Turkish Prime Minister
Recep Tayyip Erdogan on Sunday told a crowd of more than 100,000 supporters it was his "duty" to order a crackdown on an Istanbul
protest
park, as police and anti-government demonstrators faced off in fresh clashes.
Turkish Police Fights Protesters Without Mercy
Guardian Express
Moreover, 
Wikileaks
 reported, ?He´s a fundamentalists. He hates us religiously and his hatred is spreading?. On another hand, Erdogan has shown that he is serious against protesters and he will use his force to get his authority back in 
Turkey
 to any cost.
Court orders first arrests in Gezi Park protests
An Istanbul court ordered today the arrest of four people detained in the clashes between protesters and the police during the Gezi Park protests.
Pepper gas also thrown at Armenian Cemetery:
Turks sharply split over protest movement
Al Jazeera speaks with 10 Turks about their views on the recent unrest and Prime Minister Erdogan's policies.
Actor  Serkan Genç being detained:via Ötekilerin Postası
Brutal crackdown on Turkish protests

Barricades at Nisantasi, at 4:50AM Sunday
Poiu is in Turkey; he writes: " Since yesterday evening, everything has worsened. Unfortunately it is not really covered by local media, the consequence of that being that it gets a lot less international attention than it should. People are gassed here non stop, in all central Istanbul areas. Tens of thousands of people are out in the streets. The only two channels who cover the street events are ULUSAL KANAL CANLI YAYINI and artı bir tv. You should check them out just to get an idea of the scale and the drama."
Pots and pans: The sound of music
It appeared like the last resort. What can you do when you?re deprived of any form of.
The pictures and videos emerging from Gezi Park for the last 18 days are, among many other things.
Gendarmerie?s water cannon trucks called for reinforcement in Istanbul
Two water cannon trucks belonging to the Gendarmerie Forces came in reinforcement to the police near the Taksim Square.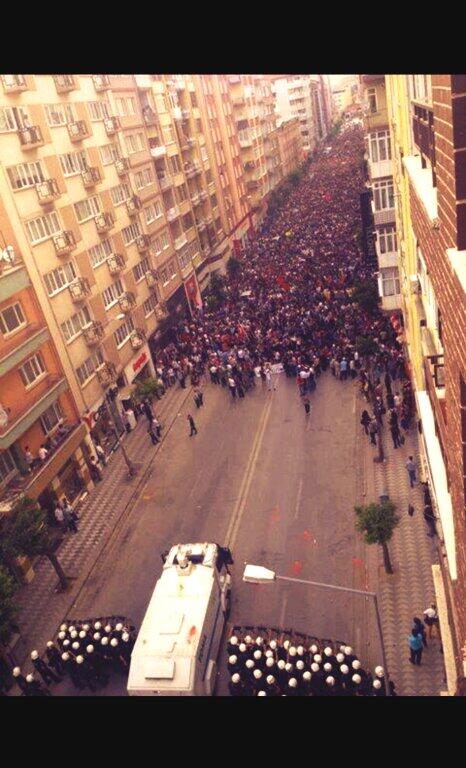 Beşiktaş – 16 June 2013
Gezi Park Evacuated, Istanbul and Turkey Explode | The Bullet
Sungur Savran
After days of hesitation and negotiation, the government has finally decided to evacuate the Taksim Commune, where thousands camped in Gezi Park and which tens of thousands visited every night. Police attacked Gezi Park yesterday evening (June 15) and after evacuating it using tear gas and, as a novelty, water cannon apparently supplemented with a special kind of chemical since it burnt the skin of everyone it touched, razed the tents, the infirmary, the kitchens and the library established there to the ground.
Putin-Medvedev scenario for AKP
Gezi Park demonstrations became a milestone in politics. In Ankara politics, all the scenarios made for the 2014 process.
Police lock down Taksim, PM shows off in Istanbul
The ruling Justice and Development Party (AKP) leader addressed hundreds of thousands of people in..
Ankara faces citywide police intervention
The police intervened in the protests gathered on Tunalı Hilmi Avenue, Tunus Avenue and Kuğulu Park in Ankara..
Turkish Bar Association calls on int'l institutions to take action over police treatment in Turkey
The Turkish Bar Association?s administrative body has called on the Council of Europe head..
G20 surveillance: why was Turkey targeted?
Gordon Brown had hailed 'strong and strengthening ties' with the country, which was ? and is ? an ally
The 2009 surveillance of the new Turkish finance minister, Mehmet Simsek, and the possible targeting of up to 15 members of his delegation to London, laid out in a GCHQ document seen by the Guardian, is a startling illustration of how far the UK's appetite for electronic eavesdropping has strayed beyond traditional cloak and dagger.
Pepper gas thrown at Netherlands Embassy- 16 June 2013- Istanbul: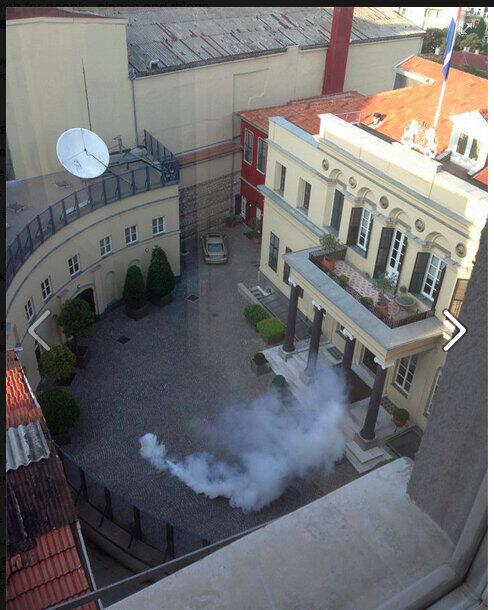 Gezi Park has become a hotbed of activity as Turks make their stand | Constanze Letsch
Leftists, nationalists, religious groups and bankers ? people who never would have previously passed the time of day ? are united in anger
There had never been anything particularly attractive about Gezi Park, off Istanbul's central Taksim Square, until it forced its way on to the world's TV screens and front pages a fortnight ago. Once a neglected and decrepit spot of greenery in a city centre starved of parks, it has suddenly been transformed into the most vibrant political theatre.
Amid Turmoil in Turkey, Musician Loses Piano
The police were said to have taken the piano and vehicle of Davide Martello, who had been playing on and off in Gezi Park, in Taksim Square.
In Turkey protests, splits in Erdogan?s base
One Islamist movement and many other supporters admire the man, question the methods.
15 June 2013 night, Bosphorus Bridge – photo by USA Today
Police arresting a protester in Osmanbey, Istanbul:
An arrest in İstiklal Street- 16 June 2013: