#OccupyTurkey the 8th Day. Deputy PM Arınç apologizes to injured protesters in passing but mostly supports PM's arguments. A huge roundup: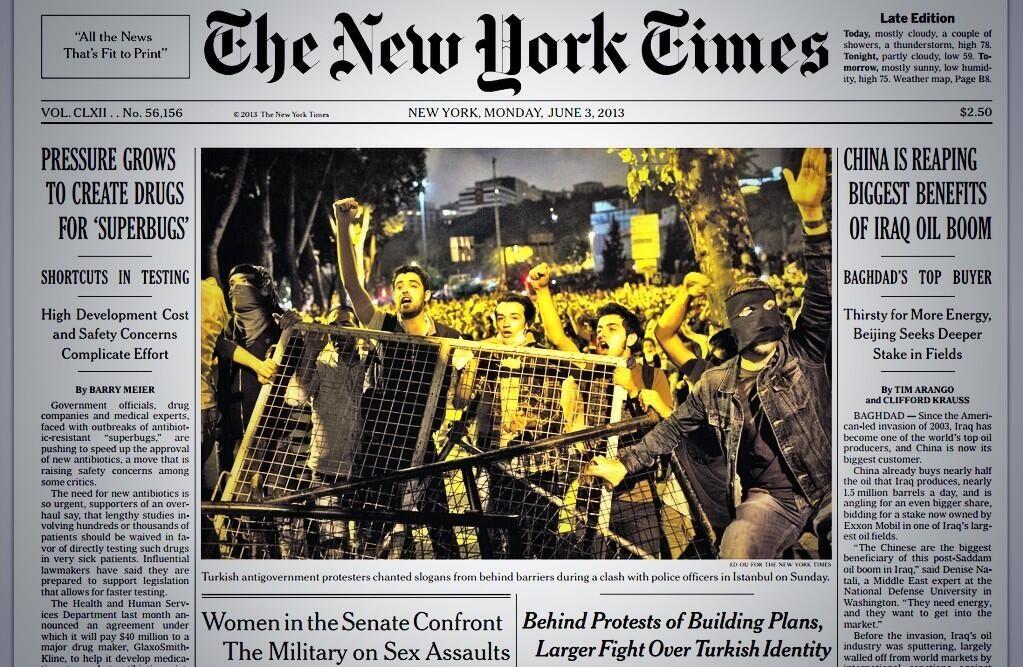 A gallery of Resistance Humor here.
A gallery of how civic this Resistance is here.
Turkish deputy PM apologizes to injured protesters
The initial reaction against the demolition of a park in Istanbul?s central Taksim.
UN rights office urges probe of Turkey crackdown
Turkey must conduct a far-reaching, independent probe on its security forces' treatment of anti-government
Opposition to Prime Minister Recep Tayyip Erdogan isn?t about a park. It?s about a power grab.
Turkey?s Arinc Appeals for Calm as Protests Enter Fifth Day
Turkey?s Deputy Prime Minister Bulent Arinc sought to pacify protests that entered a fifth day today, apologizing to victims of excessive police force and saying the government has learned some lessons.
Add Tear Gas and Stir: Images of Police Brutality Fuel Anger in Turkey
Frustrated by the relatively sparse coverage of recent demonstrations in the Turkish media, supporters of the protest movement have turned to social networks to share images of police officers using force.
In Turkey, peaceful protests in a declining democracy
Peaceful protests in Turkey against the increasingly authoritarian rule of Erdogan's Islamic-based party are a needed corrective, not a revolution. They show a fearless, tweet-oiled, even leaderless uprising to save democracy.
Kuğulu Park?s swans evacuated due to tear gas in Ankara
Swans in Ankara?s Kuğulu Park that have been affected by police tear gas amid the ongoing Taksim Gezi Park
Antalya municipality refuses to provide water for police vehicles
Antalya Metropolitan Municipality refused to provide water for the riot control vehicles.
Erdogan dismisses Turkey protesters, Gul is conciliatory
ISTANBUL, Turkey, June 4 (UPI) — A person was shot in the head and killed in anti-government protests Turkey's prime minister blamed on those "hand in hand with terrorism."
Main opposition's youth branch member killed in protests in southern Turkey
A 22-year-old man died in a hospital after being shot during…
Prime Minister Recep Tayyip Erdoğan?s political arrogance has started to cost the country much.
Turkey Anti-Government Protests Enter 5th Day
ABC News' Alex Marquardt reports that these are the most violent demonstrations in years.
The fight to protect Turkey's green spaces began decades ago | Pinar Aksogan
What we are hearing today is the voice of a people whose protests against gold mines and coal plants have long been ignored
The nationwide protests in Turkey started with the story of the people who lay down in front of the bulldozers to resist the destruction of our open spaces, the drying of the streams and the felling of the forests.
The government at the edge of its power
The slogan ?Government, resign? chanted during the ?Gezi Park Rising? should not mislead anybody
Of course our topic is the Gezi Park protests that have spread throughout the entire Turkey
Turkey?s apolitical youth turns activist thanks to PM Erdoğan
Sipping her bloody merry in a coffee shop in the posh Nişantaşı neighborhood, close to Taksim Square.
Erdoğan fails to get the point, Gül does
Prime Minister Tayyip Erdoğan looked tense and tired during his Istanbul press conference before departing.
US, Germany warn their citizens about potential violence in Turkey
The U.S. Embassy to Turkey has issued a warning to its citizens in Turkey about
By CNN.com staff (CNN) ? What started as a peaceful sit-in over plans to demolish a park in central Istanbul
Young boy lost eye due to plastic bullet in Istanbul, academic claims
Prominent Turkish academic Ahmet İnsel said on the night of June 3 that he knew a young boy.
Taksim Solidarity Announces Its Demands
Releasing a statement at Gezi Park in downtown Istanbul, Taksim Solidarity group declared that they were against Topçu Barracks or any building that would harm the park, and demanded all detainees to be released.
Turkey: a protest worth heeding | Editorial
From micro issues to large ones, the common denominator is Mr Erdogan's and the AKP's overbearing personality
There are many ways of reacting to the scenes on Istanbul's streets, if you happen to be the prime minister of Turkey. You can send in the riot police, and fill those streets with tear gas. You can denounce Twitter, and hope that no one observes that your aides tweet too. You can blame the opposition. Or you can ask yourself questions: what makes a localised and relatively peaceful campaign to save an inner city park balloon, in just a few days, into a national protest that has spread to half of Turkey's provinces ? And why is this urban revolt happening to a leader who has won three elections, each time by an increasing majority?
Turkey?s Leader Blames Extremists for Protests
Prime Minister Recep Tayyip Erdogan on Monday said his political opponents were behind the violent demonstrations that have convulsed several Turkish cities.
Turkish Prime Minister Recep Tayyip Erdogan?s woes are looking positively Byzantine at the moment. Back in 532, Constantinople faced what would become one of the worst popular revolts in history: The Nika riots burned down half the city, left tens of thousands dead, and almost led to the ouster of Emperor Justinian?and it all started over something as relatively benign as chariot racing-inspired hooliganism.
Turkey?s protesters have been let down
People are angry about a political class that has turned violent to prevent exposure of its weaknesses
Violent protests in Turkey ? day 4 in pictures
The protests began initially over the fate of Taksim Gezi Park, one of the last significant green spaces in the centre of Istanbul. The heavy-handed response of the police, plus the increasingly authoritarian agenda of prime minister Recep Tayyip Erdogan and his government has fuelled the protests.
En Turquie, la rue continue de rejeter le Premier ministre Erdogan
Les Echos (France) no. 21448, lundi 3 juin 2013, p. 6 Michel De Grandi Des émeutes secouent le pays depuis trois jours.Les manifestants dénoncent la dérive autoritaire du régime élu démocratiquement. Istanbul est incontestablement plus habitué aux cars de touristes qu?à ceux de la police antiémeute. Et pourtant, la capitale économique de la Turquie vient
?Turkey?s Youth Have Had Enough?
Spiegel Online (Germany) 3 June 2013 Charly Wilder With violent protests against the government of Prime Minister Recep Tayyip Erdogan continuing in Turkey, both the US and Europe have called for calm. The demonstrations ? and the government?s brutal response ? pose one of the greatest challenges yet to Erdogan?s decade of power, say German
«Ici, c?est l?insurrection et Erdogan ne voit rien!»
Tribune de Genève (Suisse) lundi 3 juin 2013, p. 6 Gabrielle Danzas, Istanbul La grogne contre le premier ministre se propage aux grandes villes d?Anatolie. Il était 21 h précises, hier soir, quand une cacophonie d?enfer s?est emparée d?Istanbul. Penchés aux fenêtres, les habitants se sont mis à taper sur des casseroles, des poêles ou
smoke looming taksim square, this afternoon at around 5.30pm local time (imgur.com)
Turkish Protesters Coming to the Aid of Fallen Police in Kizilay (imgur.com)
Artists Condemn Censure on Gezi Park Resistance
Turkey?s prominent artists released a joint statement yesterday that condemned mainstream media censure on Gezi resistance and demanded objective coverage
Why we need to raise our voices (OC) (imgur.com)
Semi trucks assist protestors in Turkey with roadblock
Citizens capturing a heavy equipment vehicle and chases police car a few nights ago…
Even Edison regrets.. (referring the logo of AKP)